BIOGRAPHY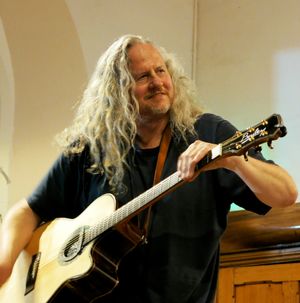 Introduction
 
One of the most influential and innovative guitarists of the past quarter century, Preston Reed invented integrated percussive guitar playing in the late 1980's, revolutionising the way the acoustic guitar is played and inspiring generations of musicians around the world ever since. Employing multi-voiced grooves, polyrhythmic percussion and story-telling compositions, Reed's visionary approach fully exploits the breathtaking orchestral potential of the acoustic guitar.

Since 1979 Preston has released fifteen critically-acclaimed albums and performed on six continents. His long teaching experience includes The Swannanoa Gathering, where he taught Kaki King, his own week-long workshops in Scotland, attended by many over the years including Ed Sheeran, and his recent masterclass at Berklee College of Music. His 1994 instructional video, The Guitar Of Preston Reed: Expanding The Realm Of Acoustic Playing continues to set today's and tomorrow's top players on the path to developing their own musical voices on the instrument.

Early years
Born in 1955, Preston Reed grew up in Armonk, New York, a small town in the wooded hills of Westchester County, thirty-five miles northeast of New York City. He was the youngest of three children, and the only boy.
His early experience of music came via the radio, television programs (favourite theme songs included Route 66, Perry Mason, Peter Gunn and Sea Hunt), movie soundtracks, and his parents' and sisters' 45 rpm singles and long-playing 33 1/3 rpm  albums (favourite early albums were Bongos, Flutes and Guitars and Sabicas).
Before he ever played an instrument, music was a vital part of his inner creative landscape. The diverse styles of music he was exposed to at home, in the car and elsewhere — rock & roll, modern and big-band jazz, blues, r&b, pop as well as classical orchestral music — would play constantly in his head. From a very young age he entertained himself by replacing phrases, rhythms, melodies, chord progressions etc. from tunes he'd heard with musical ideas of his own.
His habit of experimenting mentally with the compositional elements of music would later lead him to trust himself musically, to question the familiar and conventional and — ultimately — to develop a vision of the unlimited possibilities of the acoustic guitar. 
Reed's journey with the guitar began when he was eight years old. He came home from school one day to discover his father teaching one of his sisters some chords on a guitar. He had seen his father play guitar occasionally for family singalongs, but had never thought of learning to play himself. Seeing his sister getting instruction compelled him to get in on the action, and he asked his father to teach him. His father offered to buy him a ukulele to start with.
Being left-handed, he asked his dad for a left-handed ukulele when they were in the music store the next day. There were none available, so he agreed to learn to play right-handed. Decades later, being left-handed but playing right-handed would turn out be an advantage in developing his left-hand-over-the-neck, integrated percussive playing style.
His father taught him some old tunes (Five Foot Two Eyes Of Blue, Home On The Range and Hang Down Your Head Tom Dooley were among them). He found there were no drawbacks to playing right-handed and quickly mastered the tunes on the ukulele.
Within a short time was able to play the tunes on his father's guitar, having figured out that the top four strings of the guitar were tuned to the same notes as the four strings of his ukelele.
His parents bought him his own guitar, and soon after that he wrote his first composition. He titled it The Lonely Night. It was reminiscent of the instrumental rock & roll style of The Ventures.
He began figuring out the chords to tunes on radio, including
The Last Time
by the Rolling Stones,
House Of The Rising Sun
by the Animals and
She's Not There
by the Zombies.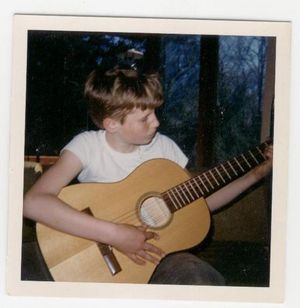 Preston with his Hopf classical guitar, 1966, age 9
Having observed his growing skills and enthusiasm for playing, his parents found him a classical guitar teacher. While he liked the classical compositions he was learning, the strict techniques, constant reading — and the overall message that there was only one way to learn an instrument -- discouraged him. After six months he asked his parents to stop the lessons, and put his guitar away. He played it only occasionally over the next six years.

Finding the guitar again
When Reed was fifteen he bought the debut album of a band called Hot Tuna, and subsequently saw them in concert. While the guitarist — Jorma Kaukonen — was  best-known as the electric lead guitarist for the Jefferson Airplane, Hot Tuna was a live acoustic recording where Kaukonen revealed himself to be an accomplished acoustic fingerpicker playing in a traditional blues style derived largely from the Reverend Gary Davis. He loved Kaukonen's playing on tunes like Death Don't Have No Mercy and Mann's Fate. It motivated him to take his guitar out of the closet and start learning the tunes on the album.
At age sixteen, through a guitar-playing friend of his sister Fran's named Richard Crandall, Reed discovered John Fahey's quirky, blues-influenced solo guitar music. He learned several of the tunes on the album America and with it Fahey's fingerpicking technique. He then discovered Leo Kottke — and his ground-breaking album 6- & 12-String Guitar -- a short while later.

While Kaukonen's guitar was tuned to standard tuning (EADGBE), both Fahey and Kottke played in multiple altered tunings. Two of the most common tunings were "Open D" (DADF#AD) and "Open G" (DGDGBD). In addition to standard tuning, Reed made extensive use of the droning bass and open string pedal tones these altered tunings facilitated in his early compositions -- especially on 12-string guitar..

Leo Kottke's proficient 12-string slide playing in tunes like Vaseline Machine Gun helped Reed develop his early slide sound.
 
Learning the music of these three guitarists gave him a foundation in the technique of alternating-bass fingerpicking. The technique provided a crucial insight into the interaction of separate voices in music — the repeating thumb as one voice, the fingers syncopating against the thumb as a second voice. He began writing his own alternating-bass fingerpicking compositions.

During his high-school years was also exposed to the guitar work of Jimi Hendrix,, Duane Allman (whose playing became a major influence on Reed's slide playing), Eric Clapton, Carlos Santana, John McLaughlin,, Larry Coryell and Frank Zappa, all of whom made an  important impression on his developing musical aesthetic.
 
 In the fall of 1972, after playing at a party for a friend of his sister's, Reed was invited to perform in concert with legendary Beat poet Allen Ginsberg at the Smithsonian Institution in Washington D.C. It was his first serious gig, and it went well.

Performer, composer, recording artist
Reed went to Beloit College in Wisconsin the following year, where he performed frequently in the college's coffeehouse. A requirement for graduating was to do a four-month field term project of his choosing, in a location he had never been before, and submit a report at the end. He chose San Francisco. The title of the project was "Playing Guitar In San Francisco".
In the fall of 1974 he arrived in San Francisco and got a job working in a delicatessen. He played his six-string and twelve-string guitars whenever and wherever he could. After extending the field term twice, he realised he was thriving in his new environment and didn't want to leave. He decided to withdraw from college.
His favourite club in San Francisco was the Holy City Zoo, a small, intimate showcase venue on Clement Street. Toward the end of his time in San Francisco he was playing there every Friday as the "music relief" for Comedy Night, where the Bay Area's best comedians would show up to hone their stand-up routines. Robin Williams was a regular.
In 1977, after three years in San Francisco and much valuable experience, he moved back to the Northeast, settling in the Hartford, Connecticut area where his father now lived. Under an unusual Federal program at the time, he was able to land a job for a year playing community service shows and events. Notable performances that period included the New England Fiddle Contest in Hartford — where he played in front of 120,000 people in Bushnell Park -- and the National Governors' conference in Boston.
He first saw jazz guitarist Pat Metheny in an outdoor concert in Bushnell Park in 1979. Metheny's music would have a huge influence on his later composing. 
With the income from the job, the supplementary evening gigs he was playing around New England, plus some help from his parents, he was able to put out his first album,
Acoustic Guitar
in 1979. The album included  jazz a duet with Connecticut guitarist Jeff Pevar called
It's Not Just Your Face
. It was well-received, 
Guitar Player Magazine
calling it "exceptionally fine…compositional diversity and guitaristic brilliance".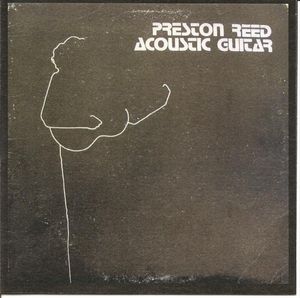 Preston's first album Acoustic Guitar recorded in Connecticut in 1979

One of his steady gigs during that period was at a pub in Stockbridge, Massachusetts called the Lion's Den. One night a customer asked him if he would  be willing to compose music for a play he was directing for the Berkshire Theater Festival. The play was Two For The See Saw by William Gibson. He composed the music and attended the opening. The lead actress was Karen Allen, recently home from her role in Raiders of the Lost Ark. He re-recorded the main theme of the play on his 1982 album Pointing Up. It was called Gittel and Jerry's Theme.

His touring activities in the 1980's centered around the Northeast at first, but after the release of his second album — Pointing Up -- on the Flying Fish label, he began touring in wider circles around the U.S. including Texas, California and the Midwest.
An Italian guitarist who was writing a book about finger style guitar brought Reed over to Italy for a tour in 1982. While he was there he met a promoter in Rome who offered to record him and put out an album. He recorded  Don't Be A Stranger over the course of two days. When the album was released he was brought back for a release tour.
He played folk festivals in Canada. He opened shows for Linda Ronstadt, Bonnie Raitt, Little Feat, Kenny G, Al DiMeola and many others. 

He also had the chance to meet and open shows for two of his early influences, Jorma Kaukonen and John Fahey, on several occasions..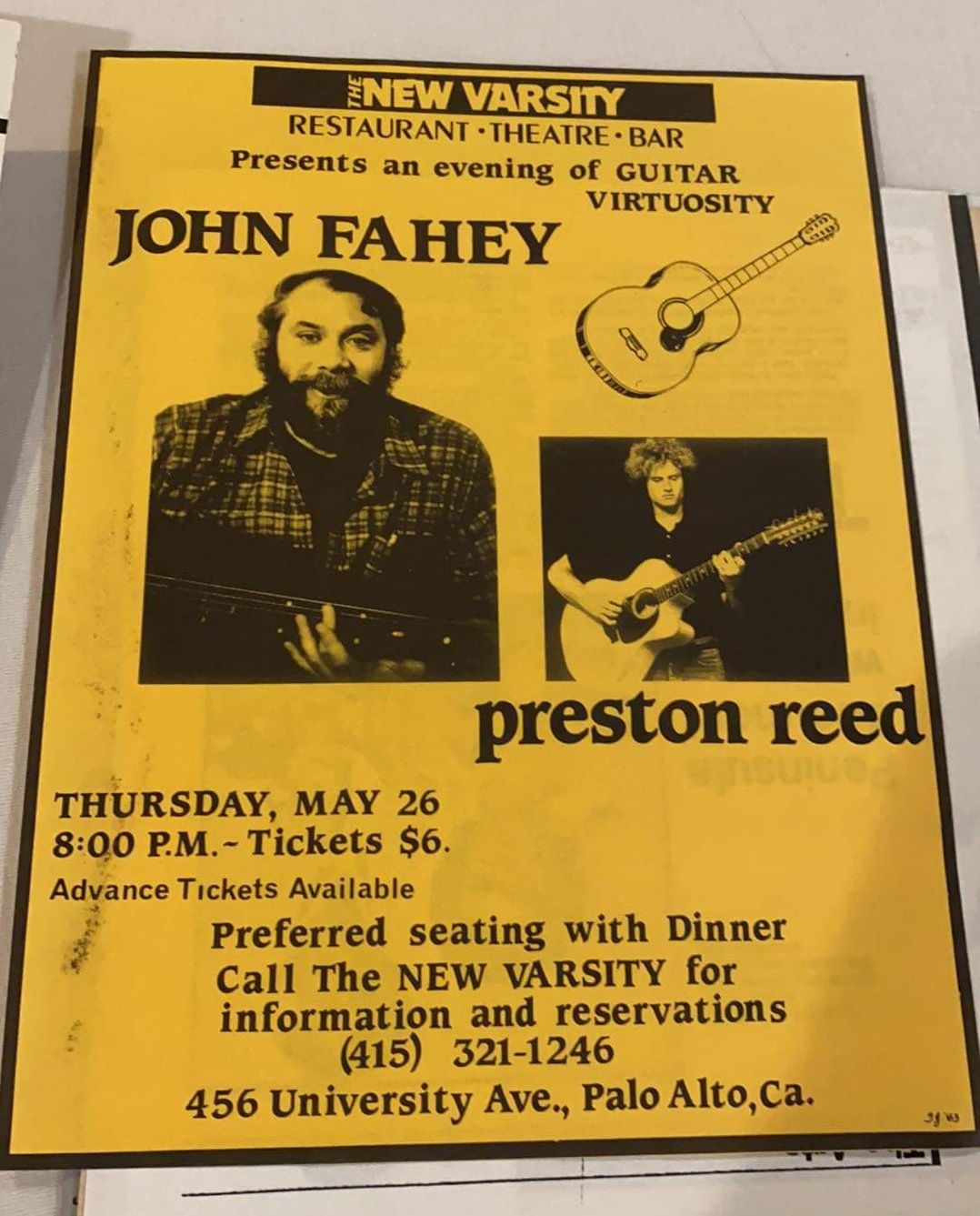 Concert poster from 1983 
Reed recorded and produced four albums of original compositions in a fingerpicking style between 1982 and 1986  -- three on the Flying Fish label plus the one in Italy. The first three albums were performed on six and twelve-string guitars, and the final one — The Road Less Travelled — on six-string only. The title tune featured a new tuning Reed had discovered: DADECD.
The exploration of altered tunings had taught him that the tuning the guitar was in had everything to do with where a composition could go and what it could say harmonically.
With each new album his playing and writing were becoming more harmonically sophisticated. In addition to Metheny, he listened fusion jazz guitarists like Larry Carlton and Lee Ritenour, and the band Yellowjackets. The increasing influence of jazz harmony could be heard in the title tune of his 1984 album Playing By Ear.  
He first met Michael Hedges in the early 1980's, and played on the same bill with him many times throughout the decade. Reed admired Hedges' boldly original, compositional approach to the acoustic guitar which featured new playing techniques and altered tunings, but he never thought of trying to imitate his style.
As Reed progressed through the1980's he began hearing about other guitar innovators -- Jeff Healey, Eddie Van Halen and Stanley Jordan.

The birth of a new style
In the fall of 1987 Reed moved to Minneapolis. Soon after he arrived, a guitar player named Billy McLaughlin came to his apartment to interview him for the Minnesota Guitar Society newsletter. McLaughlin had brought a guitar along and, after the interview, played him a survey of "tapping" techniques he had learned from Michael Hedges and others.
Reed had initially rejected the idea of tapping because he felt it had too many dynamic, harmonic and textural limitations. McLaughlin's visit reminded him that a movement was underway. He decided to take a closer look.
He opened his mind to the possibility that he could be wrong about the technique in terms of its implications for his own music,. He asked himself: Is there a way can I use this for my own compositional purposes?
Within a few months he'd written a tune in DADECD using hammer-ons and pull-offs on the guitar neck. From his knowledge of alternating bass fingerpicking, he tried replacing the alternating thumb voice with alternating third and fifth fret left-hand double hammer-ons on the neck. The right hand would then syncopate with the left hand in the same way the fingers of his right hand had syncopated with the thumb in his fingerpicking patterns.
The experiment worked. He named the tune Frequent Flyer. It featured a multi-voiced syncopated groove with his left hand playing hammer-ons and pull-offs on the neck while the right hand fingerpicked and occasionally hammered on the neck. The melody was generated interactively by both hands.
His first foray into incorporating the new technique was so enthusiastically received by audiences, it prompted another crucial insight: The ordinary listener doesn't care how something is played as long as the end result is music.
He had found a use for the technique of tapping — or two-handed hammer-ons and pull-offs as he preferred to call it -- within a wider context where it provided textural variety without being the only sonic event in the composition. He continued to write compositions that combined multiple techniques.
From his frequent tours in Texas, Reed had started hearing about a singer-songwriter named Lyle Lovett. Lovett had a new album out on MCA and opened for Reed at a club in Houston. They became friends, and he helped get Reed his first major label deal.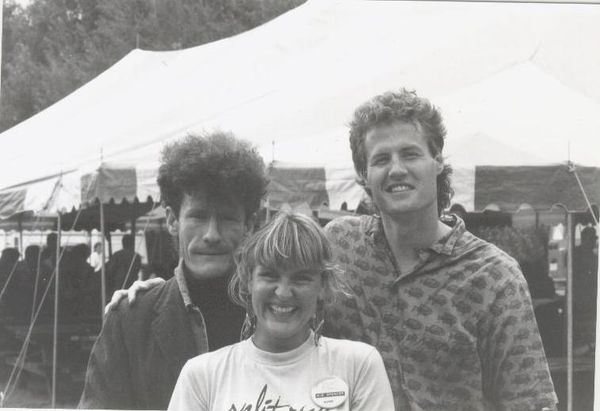 With Lyle Lovett and Sue Spencer at The Winnipeg Folk Festival 1990
His first release for the label in 1989 -- Instrument Landing — debuted Frequent Flyer, Fifteen Year Reunion and other tunes in his new two-handed style.
His contract with MCA — which after the first album was moved over to Capital EMI -- called for an album a year, so he immediately began work on a follow-up album.

Integrating percussion into the style
From his teenage classroom days drumming on books and desktops during idle moments, Reed had always noticed the diverse drum sounds that could be made beating on random objects. The body of an acoustic guitar offered an especially rich source of  drum sounds. Depending on where and how you hit it, you could create sounds and textures that imitated — to an extraordinary degree — the sounds of a drum kit and other percussion instruments. The sounds he discovered and named included kick drum (with the right hand), rim shot (with the the right hand), high hat played by striking the left hand on the neck, hand clap played by striking the side of the guitar above the neck with the left hand, left-hand conga, right-hand conga and left and right-hand bongo hits.
The problem was, there was no way to access those sounds playing the guitar conventionally without abandoning the functions each hand was responsible for — the left hand fretting strings on the neck and the right hand picking, strumming etc. between the sound hole and the bridge.
With his developing two-handed skills — and with a desire to create innovative new material for the next album -- Reed gave himself a challenge: Find a way to incorporate an integrated drum groove into a solo guitar composition. In other words, find a way to play drums and guitar at the same time.
He figured out quickly that, in order for a drum groove to exist in a solo guitar context,, the
music would have to begin with the drums, not the strings.
The strings would have to be negotiated around the drums, not the other way around..
Before dismissing the idea as impossible, he decided to try it.
He already knew that his two-handed hammer-ons and pull-offs enabled him to "fly a sound in" wherever it was needed, with whichever hand was available. So he played a cycling drum groove with his left hand and negotiated a melody with his right hand and the left hand when it was available in between drum beats.
It worked (the experiment would become the basis of the tune
Drums
on the 1990 album
Blue Vertigo).
It was suddenly possible to play and compose guitar music with an integrated drum groove. All that was necessary was to be in the rhythm -- stay in the groove -- and let whichever hand was available take care of the rest.
Once reconciled to the seemingly awkward playing position, he realised he could exploit the left hand's position over the neck to hammer the bass strings of the guitar and hold down bass grooves in between drum beats on the upper bout — which he did later in compositions like Tribes and Blasting Cap.

And if this were not enough, using tunings like CGDGGD and CGDGAD he discovered he was also able to play beautiful jazz chords "upside-down" over the top of the neck by barring groups of strings with his first finger and pinky.
The idea of this powerful new capability of turning a guitar into an orchestra with integrated percussion -- not to mention the way it looked -- made him laugh.
But the truth was, none of this was a strange idea any more.
Rather, it was a revelation. 
In 1990 he introduced the latest advances in his integrated percussive style on his second major label album, Blue Vertigo, in tunes like Drums and Slap Funk. The style incorporated many techniques — some of which he invented -- including neck and body percussion sounds, slap-harmonics, bar-hammer slides and slide-pulls, chunks, whunks, left and right-handed hammer-ons and pull-offs, strumming and fingerpicking.
The focus was no longer the guitar, but the music you could make using the guitar as a source of sounds. The acoustic guitar had become a toolbox of orchestral sounds for composing music -- only one of which was the sound of the strings. 

Getting it out there
While being signed to a major label meant growing a more mainstream audience, as well as the valuable experience of writing, recording and producing his own projects, the demanding release schedule and lack of support for his releases from the label led to Reed feeling that he was losing control over his work. 
The first two albums 
Instrument Landing
 and
Blue Vertigo 
had received little or no promotion from the label.
For his third project,
Halfway Home
, Reed seized the opportunity of an increased recording budget to branch out. He composed multi-instrumental arrangements on several tunes and hired Minneapolis-based musicians to realize his ideas -- saxophonist David Eiland (Prince), percussionist Marc Anderson (Steve Tibbetts), drummer Gordie Knutson (Steve Miller Band), bassist Enrique Tousaint and cellist Michelle Kinney, as well as two female vocalists for background vocals. He also used a guitar synthesizer on many of the tracks.
While the album was an artistic success and included tracks that were designed to be commercial-radio friendly, the label once again fell flat on promoting it.
Feeling dejected by the lack of support for
Halfway Home
 and the two previous projects, Reed returned to his artistic core and submitted a solo guitar album for his fourth project. The project was called
BorderTowns
. It was his most innovative yet..
Meanwhile the label had hired an executive producer -- Charlie Lico, the ex-manager of jazz-fusion guitar legend Larry Carlton -- to oversee the release. Ironically, Lico asked Reed if he would be willing to work with a producer and some session players to expand the commercial potential of the project,. After absorbing the disappointment of not seeing the project released as a solo guitar album, Reed agreed. He was flown to L.A. to attend the supplemental recording sessions at a studio in West Hollywood. The superb session musicians included bassist John Peña, Venezuelan keyboard/synthesizer player Otmaro Ruiz, and Peruvian drummer/percussionist Alex Acuña, formerly of the iconic fusion-jazz band Weather Report. 
The album received the first significant major-market airplay Reed had ever received in the first months of release -- reaching #11 on the Gavin Report New Adult Contemporary chart and #8 on the MAC Report New Adult Contemporary chart -- as well as stellar reviews from the music press. He performed selections from the album live with Peña and Acuña at a national radio convention in San Francisco. He appeared on Nashville television talk shows. It was the first time -- after three ignored projects -- that the label had delivered a proper, promoted release of his music.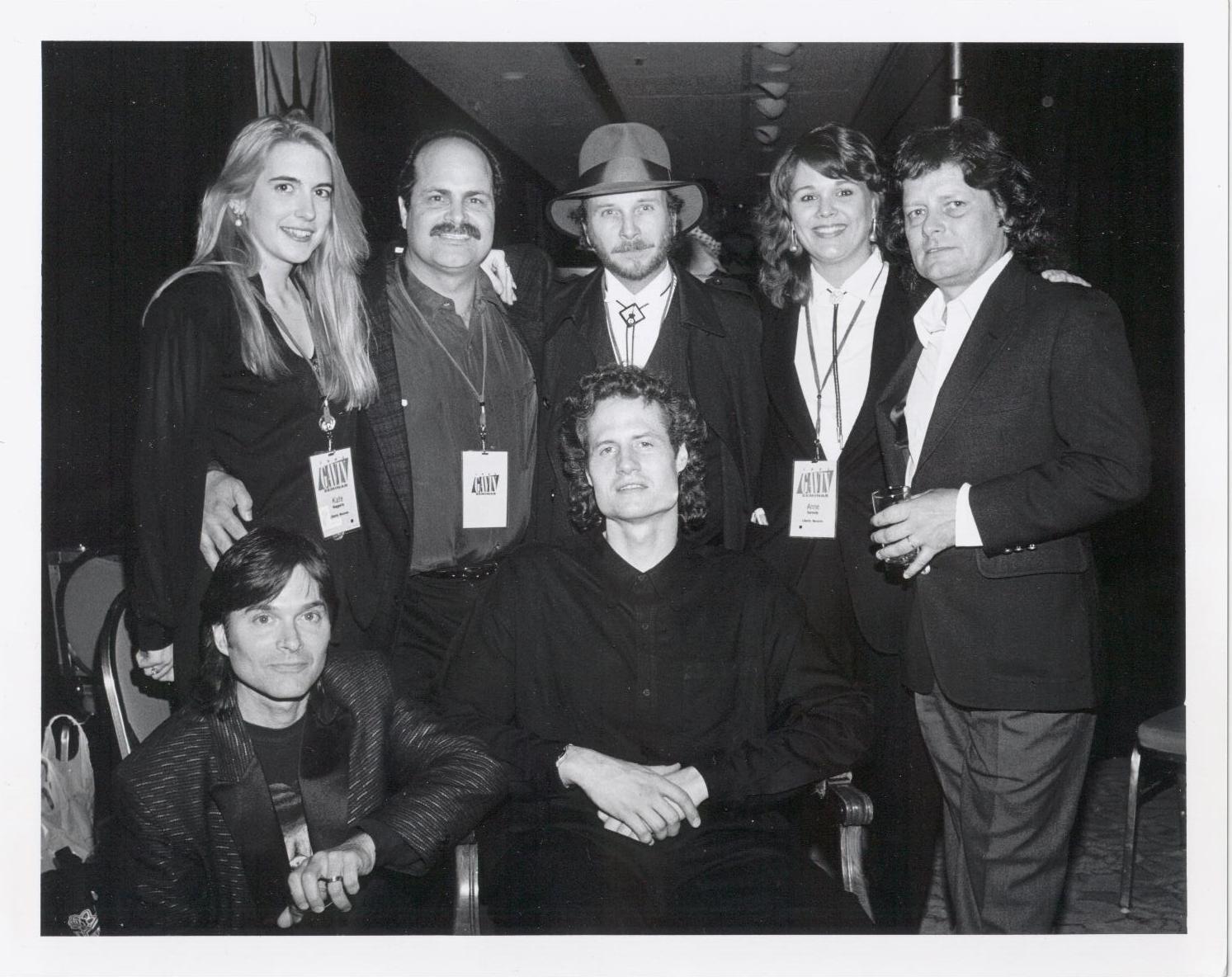 Preston and some of the Liberty Records/Capitol Nashville team at the 1993 NARAS Convention in San Francisco.
Top row left to right: Kate Haggarty (publicity), Charlie Lico (executive producer), Roy Rogers (artist),
Anne Sarosdy (national radio promotion), Billy Joe Walker Jr. (artist)

Four months after its release, sales of Border Towns were deemed unsatisfactory by label, executives and he was dropped in the spring of 1993. The five intense, creative, learning-filled years he had dedicated to the major-label record contract had come to an abrupt end.

Emotionally devastated, he would have to start over.
Reed continued to play clubs, colleges and festivals around the U.S., He was also continuing to compose music, and through that process, develop and refine his guitar approach.

One day in the summer of 1993 he received a phone call from a sound engineer in San Diego, California named Henry Austen who was organising a showcase for the upcoming NAMM Show in Anaheim. He asked Reed if he endorsed any guitar brands that he could approach to sponsor his participation in the showcase.. Reed said no, so Austen contacted four of the biggest acoustic guitar companies in the U.S. on his behalf. Reed struck a deal with one of them -- Washburn Guitars -- and began performing at music industry trade shows. 
He recorded an instructional video for Homespun Tapes in 1994 called
The Guitar Of Preston Reed: Expanding The Realm of Acoustic Playing.
 Now available in DVD and download format, it continues to influence generations of guitarists around the world.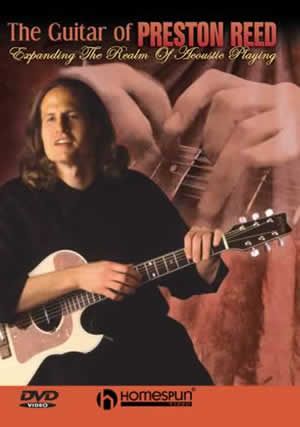 In 1995 he recorded Metal on a small independent label. He sent the album to Michael Hedges. Asked about Reed a few months later in an interview in Fingerstyle Guitar Magazine, Hedges said "If I'm a hard-core guitar player, Preston Reed is petrified. He's so into it he has alchemized. I've never heard anyone more precise. He's really inspiring." It was the album that would define his career as a guitarist, composer, pioneer and innovator.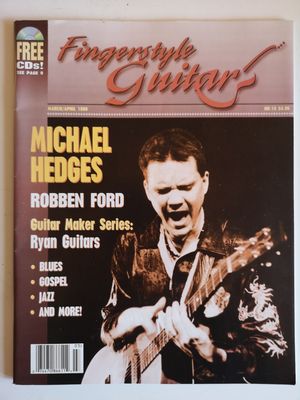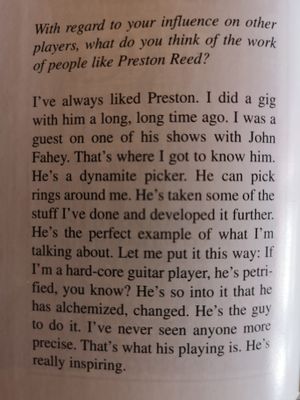 From 1996 interview with Michael Hedges in Fingerstyle Magazine
While on a clinic tour in the Midwest for Washburn that year, he played in a coffee shop in Topeka Kansas and met Andy McKee, whose cousin had brought him to the clinic for his sixteenth birthday. McKee went on to learn Reed's style from his instructional video. His 2006 YouTube video of the tune Drifting -- based on Reed's composition Tribes — has been viewed 150+ million times. McKee has since become a champion of Reed's contribution to the evolution of acoustic guitar playing, sharing with global audiences the story of how seeing him play that evening inspired him to switch to acoustic guitar from electric guitar.
At the end of 1996 he did his first tour of Japan. In 1997 Ovation guitars sent him to Turkey for a week of concerts, workshops and radio and television appearances. He performed on Turkish National Television with saz player and composer Arif Sag and his student. The broadcast was seen by millions across Europe.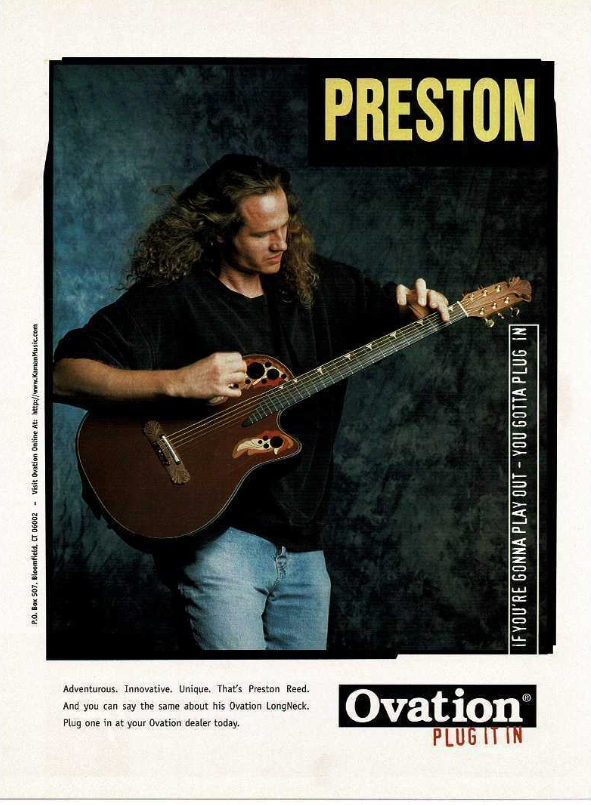 Ad for Ovation Guitars appearing in guitar magazines in 1997
He recorded an album (Groovemasters Vol. 1) and did a live concert video with Laurence Juber (Paul McCartney/Wings) in 1997. He also performed at an All Star Guitar Night in Nashville. Muriel Anderson introduced him to Chet Atkins after his performance. Atkins told him, "You have an interesting style."
He met and performed next to Tommy Emmanuel at another All Star Guitar Night in Nashville the next year. A video of the evening was later released.

In 1997 he was commissioned by the Minneapolis Guitar Quartet to compose a four-part suite for guitar quartet. The  resulting work was entitled Groovophrenia. The MGQ performed it throughout the U.S. as part of their repertoire the following year. 
From 1997-2001 Reed taught for a week at the Swannanoa Gathering, a summer music camp in North Carolina. It was there that Kaki King saw him play, audited his classes and learned his style. She approached him to personally teach her his tune
Blasting Cap
, which he did.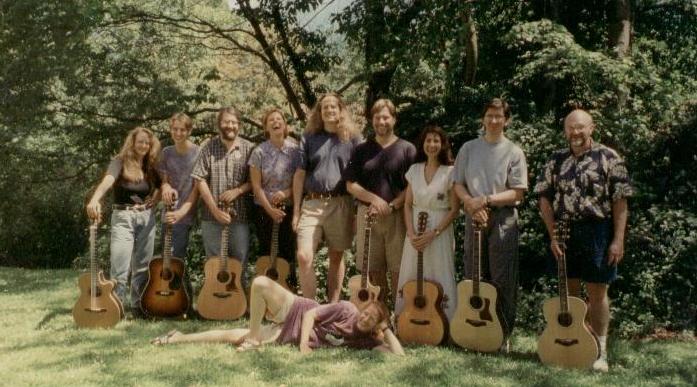 Preston with one of his guitar classes at the Swannanoa Gathering in 1997


In 1998 he signed his second major label record deal, this time with Imaginary Roads (Polygram), a record label owned by Windham Hill Records founder Will Ackerman. Over several months at a studio outside Brattleboro, Vermont, with Ackerman producing, Reed composed and recorded a complete album project, only to see Polygram go under near the end of the project. The album was never released, but Reed re-recorded many of the tunes from the project on his album Handwritten Notes.
Throughout the late 1990's he traveled and performed on behalf of Ovation playing tours and events in the U.S., Canada, U.K., Europe, Asia, and Central and South America.
In 2000 Reed acquired the rights to Metal and its follow up, Ladies Night. In May of that year he performed at a guitar festival in southwest Scotland alongside Tommy Emmanuel, Martin Taylor, Nick Harper and others. It was there that he met Catherine Maguire whom he later married and now lives with in the nearby seaside town of Girvan.
Over the summer he recorded Handwritten Notes -- his first project for his own record label, Outer Bridge Records. The new album moved deeper into compositional territory, incorporating his latest jazz harmony and time signature explorations in tunes like First Summer Without You, inspired by one of his jazz heroes Bill Evans, and Crossing Open Water, an emotional, tension-filled composition in 7/8 time inspired by his visit to Scotland earlier that year. In its review of Handwritten Notes, the music blog Minor 7th.com wrote, "Preston Reed skilfully intertwines his trademark raucous slam-bang percussives with reflective and melodious ballads in a way which will heretofore define him as a living guitar legend in his own right."
He had come to see the acoustic guitar as a lens through which to explore many genres of music — jazz, rock, blues, funk, world, classical and more. He had also come to realise, from his many concerts around the globe, that through instrumental music he could communicate artistically, emotionally and spiritually with people of every language and culture, without the need for words.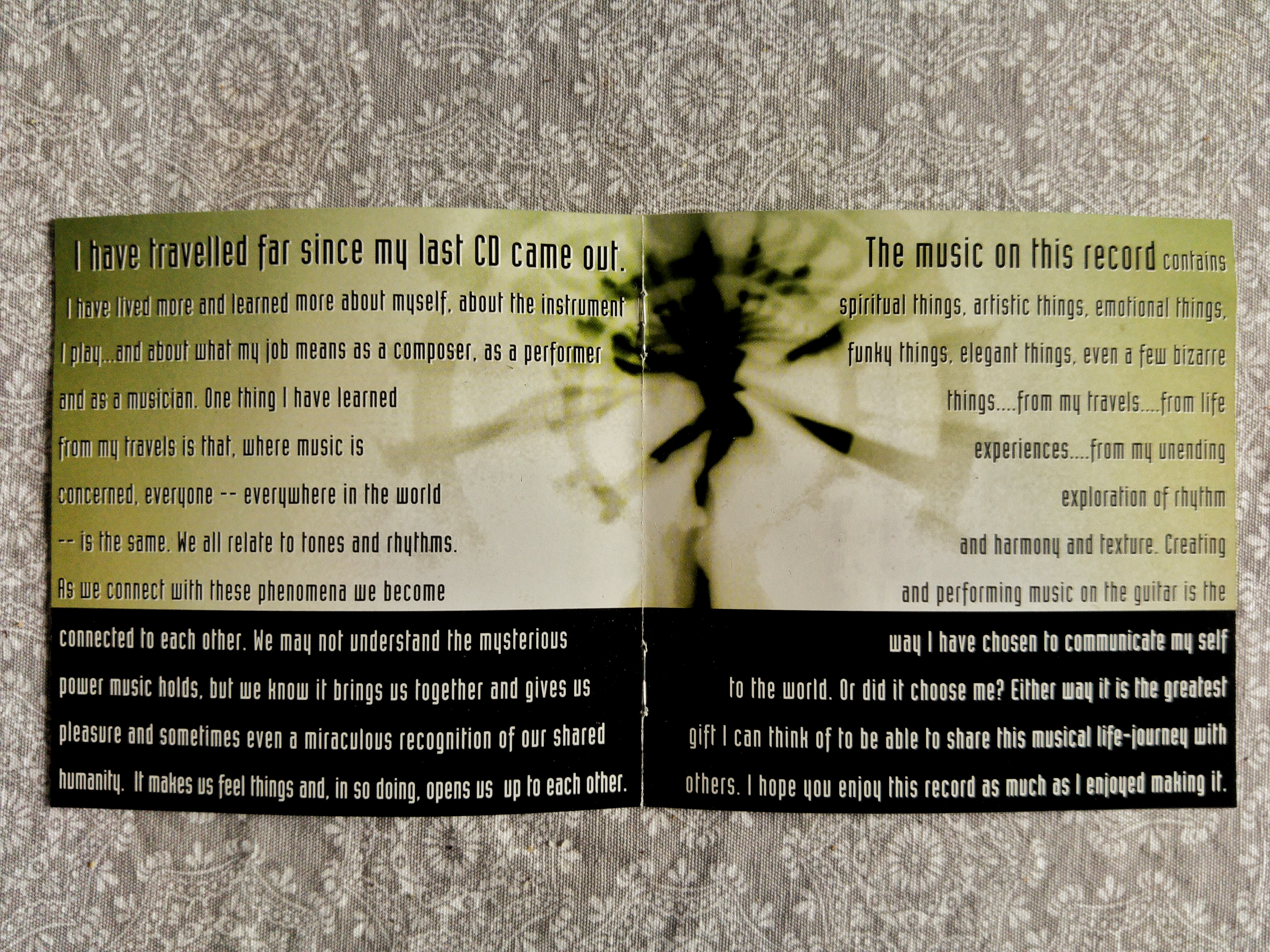 From the centre of the CD booklet of Handwritten Notes, the first release on Preston's own label Outer Bridge Records.

Moving to Europe

Reed moved from Minneapolis, Minnesota to Scotland in March 2001.

In his first years in Scotland he toured in the U.K. and Ireland, and played several guitar festivals in France. He participated in the live, sold-out three-night film production Autour De La Guitare at the Olympia Theater in Paris. A DVD documentary of the event was later released. Highlights of the DVD include a duet of his tune Ladies Night with Basque-French guitarist Jean Marie Écay.

in 2002 he travelled to Mexico City for a large musical instrument expo/artist showcase called ExProMusica. While there he met and performed in concert with Cuban American drummer/percussionist Walfredo Reyes Jr. before continuing on to São Paolo Brazil for a workshop at a prominent music academy.
 
In 2003 he was invited to perform and give a workshop at the Chet Atkins Convention in Nashville. While there he spent time with the late, great fingerpicker Buster B. Jones. They jammed together briefly.
From 2003 through 2009 he taught a 5-day summer workshop out of his home in Girvan. In 2005 one of his students was 13-year-old Ed Sheeran.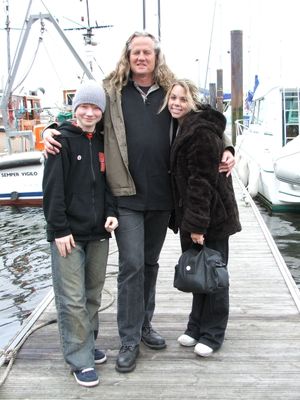 With students Ed Sheeran and Jocelyn Celeya at Girvan Harbour in 2005
Reed released an album in 2004 featuring electric, electric baritone, acoustic, semi-acoustic and nylon-string classical guitars called History Of Now. The project presented an opportunity to re-record the emotional electric baritone ballad Valhalla from the unreleased Polygram project, as well as the tunes Halfway Home and Dead Cool from his Capital EMI projects.
The abundant jazz and blues influence in Reed's music has landed him many jazz gigs  -- in clubs like Pizza Express in Soho, London -- as well as festival performances around the U.K. and Europe, including the Edinburgh Jazz Festival, the Oxford Jazz Festival and the Oslo International Jazz Festival in Norway, where In 2006 he performed with bassist and ECM recording artist Arild Anderson.
A book of transcriptions of his tunes — Guitar Impact -- was published in 2005. Reed's transcriber, Bruce Muckala, had worked out a way to notate the confusing complexity of Reed's style without resorting to multiple staffs. It was accomplished in such a way that it was clear and followable for guitarists. All of Muckala's many transcriptions of Reed's music use the same format.
Reed released his melodic tribute to the jazz songbook — Spirit -- in 2006. The entire album was performed on a classic archtop  jazz guitar given to him by a friend, and included an original arrangement of the Jerome Kern classic, All The Things You Are.
He toured Australia in 2009, playing festivals and clubs in Brisbane, Canberra, Sydney, Melbourne and the southeast coast. 

In November 2011 did his first TED Talk — a solo musical performance -- at the TED Salon in London.
Later that month he flew to Poland to perform at the Wrocław International Guitar Festival. The headliner of the festival was Paco De Lucia. Reed had the chance to meet De Lucia and his band at dinner after the concert. At the end of the meal, a band member handed Reed a flamenco guitar and asked him to play for them. He played Ladies Night and Shinkansen. 
In May of 2012, he traveled to Singapore for two sold-out concerts with Sungha Jung.. 
In June 2012 he did his second TED Talk with a young Pakistani guitarist named Usman Riaz at TED Global 2012 in Edinburgh. Riaz had discovered and learned Reed's music from YouTube videos. They had never performed together before. The video of the TED Talk has since had over two million views.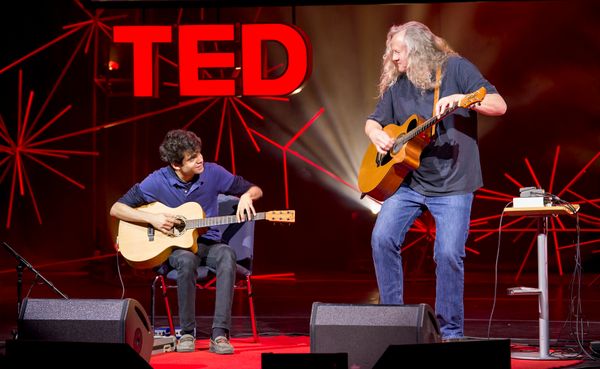 Later that year he toured the UK and Europe on the 50-date Guitar Masters Tour alongside Andy McKee, Jon Gomm (for the U.K. segment) and Antoine Dufour (for the European segment).
More recently
2013 saw the release of Reed's latest, all-acoustic album 
In Here Out There
, recorded in Glasgow on a classic Neve mixing console, as well as tours and performances in Poland, China, South Africa, France and Puebla, Mexico, where he performed for the global conference of ideas, Cuidad De Las Ideas (CDI). 
He was also honoured with a Lifetime Achievement Award from the Ards International Guitar Festival (Belfast, Northern Ireland) that year.
In 2014 he performed at the UNESCO International Jazz Day Festival in Odessa, Ukraine, and did a one-day residency at Berklee College of Music which included a master class and a concert at the Berklee Performance Center.
Recent highlights include appearing as a mentor on Sky Arts Guitar Star.
 
Reed's busy 2016 touring activities included a concert performance and his first time adjudicating an international guitar contest at the Canadian Guitar Festival (Kingston, Ontario), a 7-city tour of China, U.S. concert dates with Andy McKee's Guitar Masters, a guitar teaching workshop with Andy McKee, Thomas Leeb and Craig D'Andrea at Andy McKee's Musicarium (Big Indian, New York) and a concert and workshop at the London Acoustic Guitar Show.
In October 2016 he did a 17-date solo concert tour of of Europe encompassing Slovakia, Austria, Germany, Belgium and France.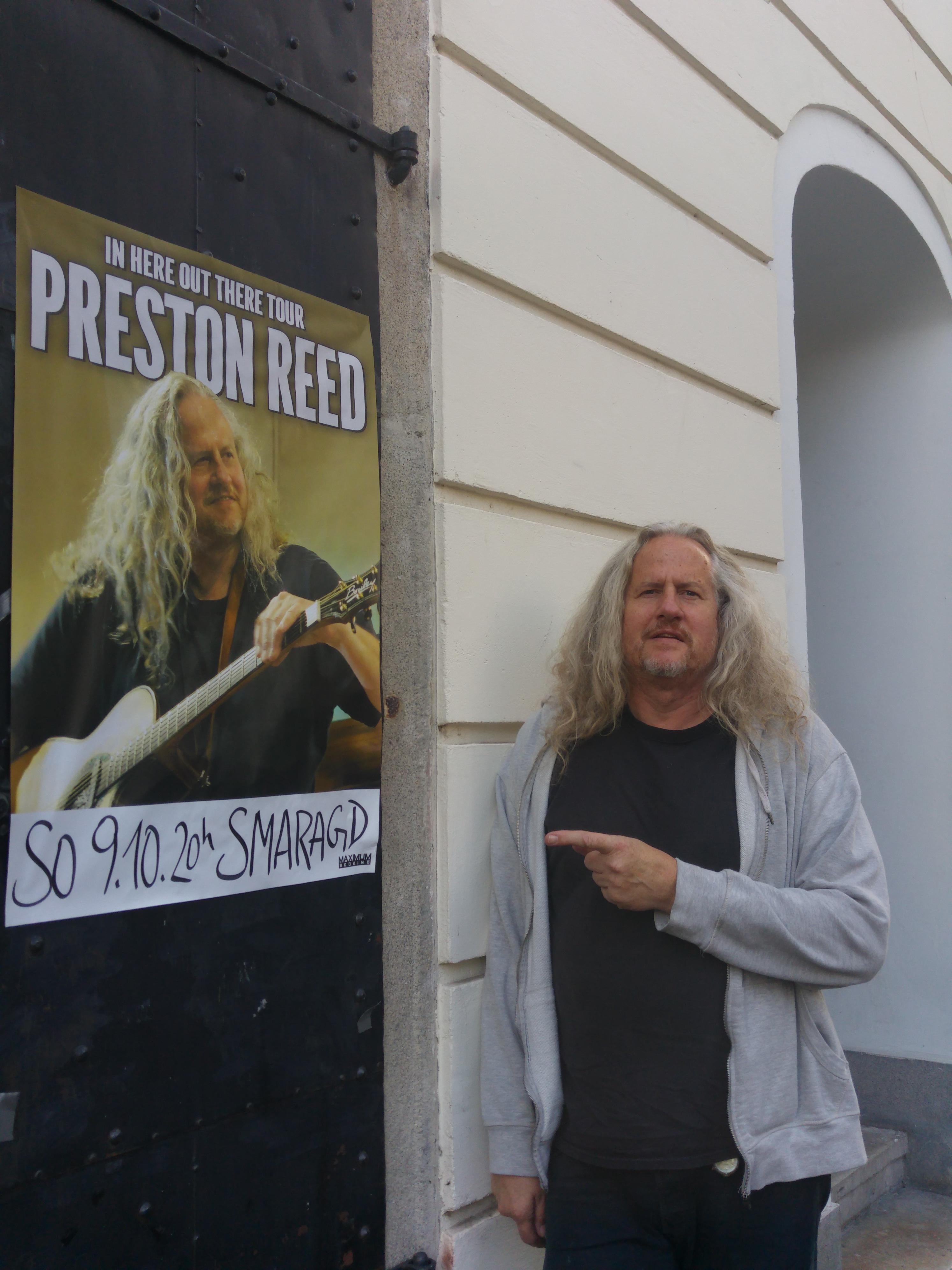 In Linz, Austria, October 2016
In November 2016 Reed adjudicated his second international guitar competition at the Wrocław Guitar Masters Festival and Contest in Wrocław, Poland alongside Martin Taylor, Piotr Restecki and Krzysztof Pełech. He opened the gala awards presentation the following evening with a performance of his music.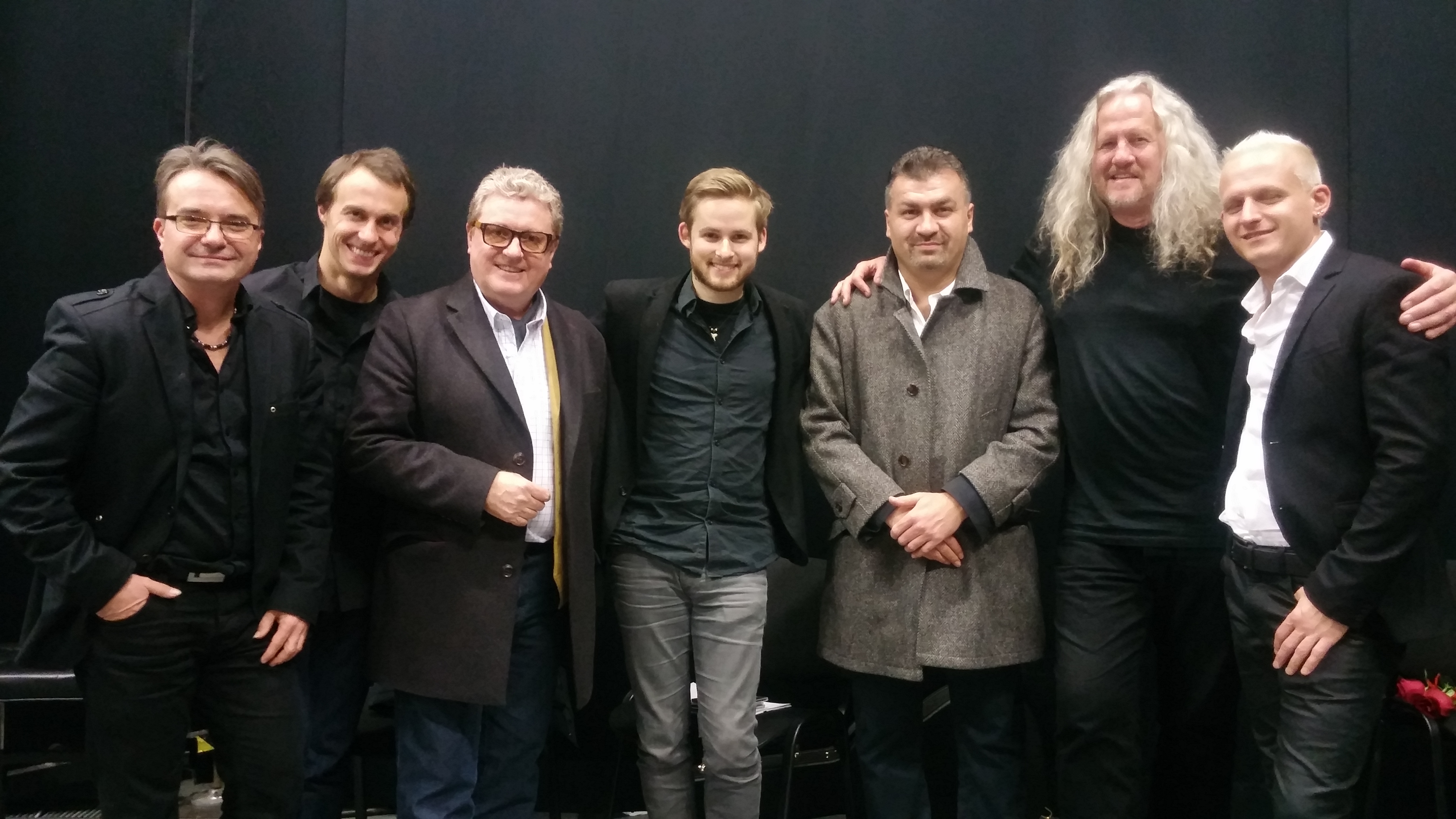 The winners and jurors of the 2016 Wroclaw Guitar Masters Competition. From left to right:
Krzysztof Pełech, David Lindorfer (2nd place), Martin Taylor, Sönke Meinen (1st place), Antal Pusztai (3rd place), Preston, and Piotr Restecki
In four months he had performed in 10 countries.
To date, Reed has recorded seventeen albums. His recorded music was used in the Ken Burns baseball documentary
The Tenth Inning
, as well as in Josh Fox's environmental protest films
Gasland
and
Gasland 2
. He has performed at corporate events for Nike Corporation, Revolution Growth, and the Dubai-based Gulf Agency Company (GAC).
Signing CD's after performing at the gala awards presentation for the 2016 Wroclaw Guitar Masters Festival and Competition
Preston Reed has brought his innovative musical vision to six continents. His recordings and live performances continue to present the defining the sound of the pioneering compositional guitar genre he invented over a quarter of a century ago. 
In Marseille, France, October 2012 (photo credit: Stanislas Oriot)